In the 2010 election we were in the seat of McEwen, meaning that Rob Mitchell (Labor) defeated local Liberal candidate, Cameron Caine, to earn the title of our elected representative.
That's Cameron
This is Rob
Then the boundaries changed. Goodbye Rob and McEwen, and hello to Sophie Mirabella (Liberal) and
Indi
.
Sophie
The electorate of Indi
Sophie has been the member for Indi since the 2001 election (The Children Overboard, Tampa election) and came in to Parliament alongside other newbies such as Steven Ciobo, Peter Dutton, Greg Hunt and Tony Windsor.
Whilst she spent her time in the back bench during the Howard years, after the 2007 election she has been promoted to a variety of positions, including Shadow Parliamentary Secretary for Local Government, Opposition Spokeswoman on early childhood education, childcare, women and youth and more recently Opposition Spokeswoman for innovation, industry, science and research.
Interestingly if you visit her website and click on to
Speeches and Transcripts
you wont find much recent action, with the latest speech dated 8th November 2012. She must have been busy doing other things.
She has been a regular on ABC's QandA, a panel show hosted by Tony Jones. It is from one of her earlier attendances on that show this year that has provided us with these moving images of her concern for her fellow panellist who had suddenly fainted.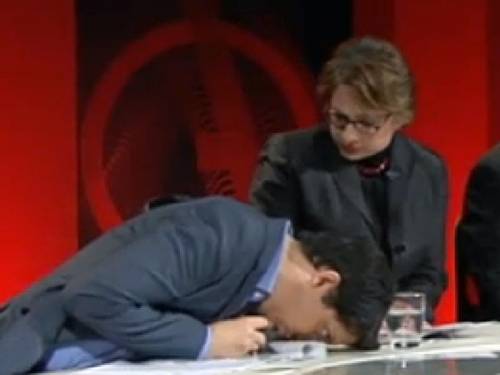 All that is old news.
Sophie has been in the media recently, in her role of Opposition Spokeswoman on Industry,discussing the current issues surrounding the car industry.
She was chatting to Fran Kelly on Radio National this morning, indicating the Liberal party's concern for the future of the car industry. Which is fine, except the current policy of the Liberal party is for a reduction in financial assistance to the industry over the next few years. And whilst
farmers appear to be supporting this move
, the automotive industry is obviously less keen.
Anyway, she was out, later on still talking about the car industry, and I love this. from J
udith Ireland of The Age
:
The Coalition's Industry spokeswoman Sophie Mirabella weighed in to the car funding debate this afternoon with a media release that would win a gold at the Tongue Twist Olympics.
"Carr's Car Con Confusion" it begins, before pointing out differences between Labor's targets to have more Australian made cars sold in Australia.
Seriously, try saying that a few times really quick.
I've tried finding that Media Release online. Nothing. Not yet, anyway.
I've also tried finding about what local issues Sophie is concerned about. You'll need to stay tuned for that one. Hopefully something will turn up soon.
Before I sign off tonight, I must thank
@ABCNews23
on Twitter and share this with you:
Will we see her in the electorate? Down here? Time will tell.