Tonight we are going to look at the Pink Panther.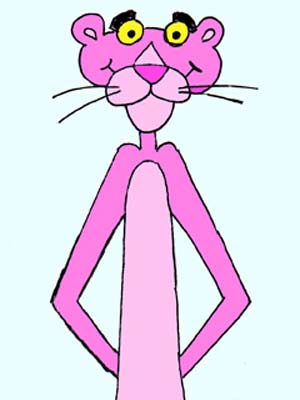 Since I was very little I recall the famous Pink Panther in a variety of settings. Movies, music, cartoons, ads; I even have a vague recollection of a Pink Panther show bag at the Royal Melbourne Show, when I was a young lad. In more recent times I have a somewhat hazy image of a stuffed Pink Panther toy, being used as a punching bag (I won't say any more about that one, lest I incriminate some of my old band friends!)
The first actual reference to the Pink Panther occurred in the first of the PP movies, in 1963. Titled
The Pink Panther
, it starred David Niven, Robert Wagner and
Peter Sellers
(one of the best comic actors of all time), as the bumbling French police inspector Jacques Clouseau. This comedy centres on the theft of Pink Panther, the largest diamond in the world, so called because a) it's pink colour, and b) a tiny flaw in the diamond resembling a leaping panther.
Here are the opening credits of the 1963 movie
, introducing not only the movie but a) the animated pink panther character and b) the very well known title piece, composed by legendary Henry Mancini.
(I do apologise for not embedding this Youtube into my blog. For the very first time I have come across a video where the embed function has been disabled. Anyway,
follow my link
, as its worth a look).
After this initial movie Peter Sellers fronted up as Jacques for another 5 movies, with one more movie made after his death, using previously unused material.
The names of those movies were:
A Shot in the Dark (1964)
The Return of the Pink Panther (1975)
The Pink Panther Strikes Again (1976)
Revenge of the Pink Panther (1978)
and
Trail of the Pink Panther (1982)
with David Niven returning as Sir Carles Litton
I recall seeing most, if not all of these of television when I was young. Whilst I haven't seen these in recent years my recollection of these movies are they were harmless comedies, without much violence (if you exclude the slapstick scenes in all the movies, and without much of a love interest, which is good when you are under 13.
In addition to the above movies there have been another 5 produced. The first one was actually made in 1968 and titled
Inspector Clouseau
, and did not have either David Niven, Peter Sellers or Henry Mancini involved with the film.
The second movie was
Curse of the Pink Panther
and was made in 1983. This movie was an attempt to reprise the Inspector Clouseau role, with it played by Roger "007" Moore. It failed.
The
Son of the Pink Panther
came out in 1993. The less about this one the better, although it did have an interesting take on the traditional movie theme (more on that later).
It was unfortunate that in recent years some studio exec thought that it woud be good to reprise the Pink Panther "franchise". Steve Martin played Clouseau in both the
2006
and
2009
movies, but I think it was not a wise move for him to be involved (and I think Jean Remo must have been paid
a lot
of money to appear - in both movies!).
OK, so that's the movies.
Henry Mancini's music credits include are too long to mention here (and no doubt will form the basis of a future Sunday Night Tom Foolery). The Pink Panther movie music is probably his best known work, and The American Film Institute rank the music Number 20 on their
list of the greatest film scores
. Here is a
video of the theme, with Henry Mancini himself playing piano
. (Embedding once again disabled)
This music has been arranged to be played by many different ensembles. Apart from the trombone choir (shown last Sunday) here are a couple of other enjoyable ones. Firstly played on the Baritone Saxaphone:
Bobby McFerrin recorded an arranagement of the theme which was then used for the 1993 movie, Son of Pink Panther. Here it is for your enjoyment:
And just because I can, a heavy metal version:
As mentioned earlier the opening credits of the original movie were with an animated pink panther. This animated cat then developed a life of its own, spinning off to its own cartoon series,
The Pink Panther Show
. Directed by Friz Freleng (of Looney Tunes fame) this series ran for 11 years.
The Pink Panther was also appropriated by ACI in Australia (and Owens Corning, it seems, in the USA) to sell Pink Batts (home insulation). It seems they are still running ads using the panther, as can be seen on their
website
.
Well that's my trip down memory lane tonight. I'll leave you all with this scene from the first Pink Panther movie, with Peter Sellers (our topic for next week) at his best.
Have a good week.